Founded in 1960, King Engine Bearings is a world-class developer and manufacturer of engine bearings for automobiles, light to heavy-duty trucks, marine, aviation, standby power and other types of internal combustion engines. King's only product is engine bearings. As a result of its specialization and focus, the company is recognized for producing the highest quality engine bearings available in the market today. The King line includes OEM replacement conrod, main, cam bearings, and thrust washers and its special range of high-performance bearings. King's extensive coverage of domestic and import engine bearings ship from its main distribution centre in Cedar Grove, N.J. and 11 strategically located factory branch warehouses. Through the years, King has developed and maintained a philosophy of constant improvement, from bearing design and engineering to customer service. The company is a certified TS16949 (automotive) and AS9100 (aerospace) manufacturer, producing to the highest statistical quality control standards.
A Choice of Materials
King uses superior materials to provide superior performance:
Alecular Alloy (AM), an alloy of aluminium, tin and copper-Plus Alloy on high-strength steel. (Bi-metal bearing)
Babbitt on Steel (BB) in precision, micro or conventional thickness. (For Cam Bearings)
Copper-Lead on Steel (CP) with .001" Copper-Lead-Tin Overplate. (Tri-metal bearing)
Alecular Silicon (SI), a highly versatile, wear-resistant and durable material preferred by OE manufacturers. (Bi-metal bearing)
To view the King Bearings website Click here
To use the King Bearings online catalogue Click here
King Race Bearings CatalogueView PDF
Bulleye Tolerance
No more multiple set purchases or "fishing" for bearings to reach right clearance
No need to grind cranks "fat" or "thin"
No need to adjust housing diameter
Less taper across the bearing face
Typical race bearings are manufactured to meet the industry's traditional +/- 0.00025 " wall thickness tolerance. But race engine builders often prefer narrow, more specific oil clearances with far more tolerance control.
To achieve the right clearance, they compensate for bearing thickness inconsistencies by grinding cranks "fat" or "thin", adjusting the housing bore, or purchasing multiple sets to "fish" for shells. The process is time-consuming, costly and tedious.
King listened to its engine-building customers and responded with Bull's Eye Tolerance™
Bull's Eye Tolerance™ is a production technology developed by King. It combines highly accurate machining, over-plating, and computerized wall thickness monitoring that adjusts the process on-the-spot.
Bull's Eye Tolerance™ outperforms the industry's wall thickness tolerance, ensuring the least thickness variation shell-to-shell. The outcome: A new standard in bearing thickness consistency.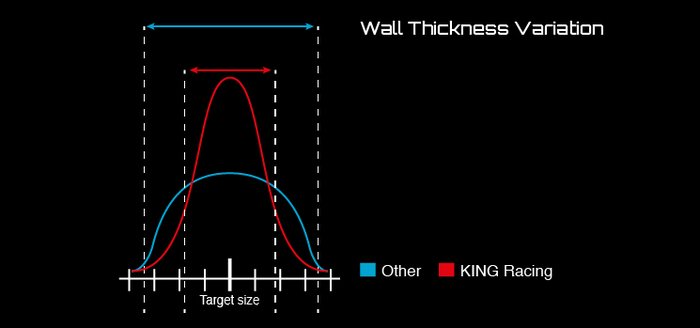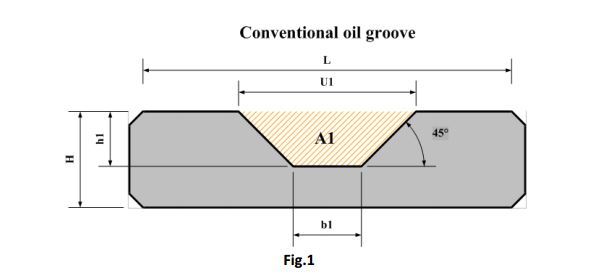 U-Groove
New Design of Oil Groove (U-Groove™) The level of specific load applied to the grooved bearing may be lowered by means of a reduction in groove width.
Fig.1 shows a cross-section of a bearing with a conventional oil groove design.
The effective bearing length is L-U1. It may be increased by a simple decrease of U1, but it would reduce the cross-sectional area of the groove. This is an extremely undesirable modification, particularly for high-performance bearings generating high oil flow rates due to operation at high rotation speeds. The connecting rod bearing is lubricated by oil passing through the main bearing groove and then the oil passages in the crankshaft. The amount of oil entering the connecting rod bearing should be not lower than the oil flow produced by the hydrodynamic lubrication of the main bearing. A reduction of the cross-sectional area decreases the passage capability of the groove, which may cause a formation of oil starvation conditions in the connecting rod bearing.
A new design should result in a reduction of the groove width without decreasing the groove cross-sectional area.
The modification according to these demands is presented in Fig.2.
The rectangular shape with small chamfers has allowed a reduction of the groove width at the top (U) by at least 30%. On the other hand the cross-sectional area A has not changed due to an increase of both groove width b and groove depth h.
ElliptiX
Increases oil passage capacity
Produces higher oil supply reliability
No need for custom-made oil hole enlargement
Race bearings often come with a larger oil hole. In most cases, the larger oil hole exceeds the boundaries of the oil groove and reduces the bearing's effective surface area. As a result, the bearing suffers from a significant loss of load capacity and hydrodynamic regime stability.
In response, King Racing Bearings TechLab developed ElliptiX™. EliptiX™ is a newly designed oil slot/oil hole hybrid that improves oil ingress, without affecting the bearing's surface. The innovative changes to the slot hole prevent a compromised load capacity.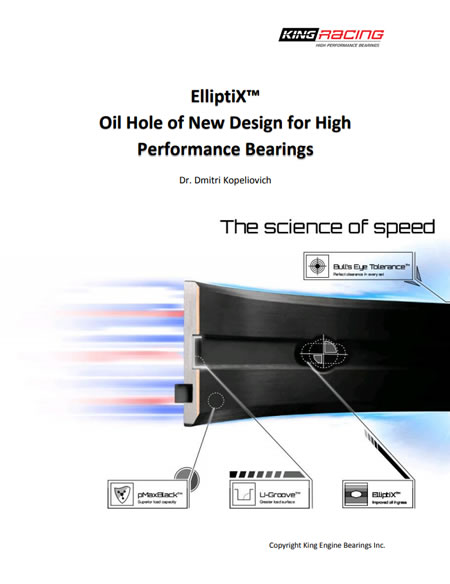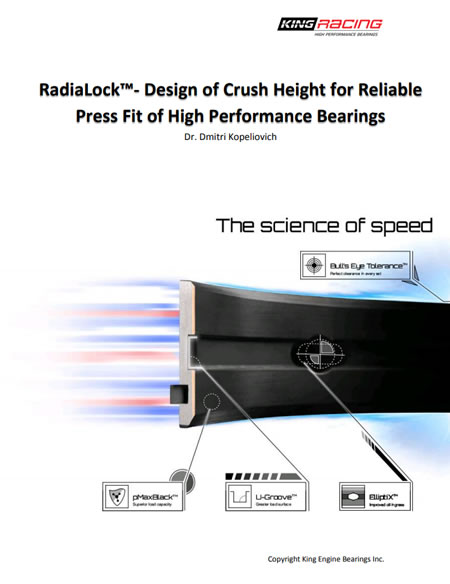 RadiaLock
Optimal press fit
Improves bearing spin and fretting prevention
Better heat transfer
Reduces bearing and housing distortion
A common industry practice is to design race bearings with excessive crush height. However, the extreme operating conditions and degree of individualization in today's race engines call for greater design precision. King responded with RadiaLock™.
RadiaLock™ is an optimal crush height value obtained from an optimization process that customizes each bearing crush height to its specific performance requirements.
During the process, King's ENSIM™ system analyzes optional height crush values, taking into account the engine block or conrod material, the coefficient of thermal expansion, torque and more. Following the process, the perfect RadiaLock™ is reached for each bearing in each application.
King Racing Bearings
King racing bearings are now widely used across the UK and have been for many years in the USA. Successful race engine builders are constantly pushing the limits of load capacity to new levels. Race bearings today inevitably need to match these demands with more competitive bearings. At King Racing we met the challenge with the XP high-performance bearings series.
King Racing's XP series features pMax Black™, a unique tri-metal structure that is 24% harder than any other conventional tri-metal race bearing. pMax Black™ together with the XP geometric features are the ideal combination for performance racing. For more on King Racing technologies visit TechLab
The XP series is a line of bearings with advanced metallurgical and geometric technologies that meet extreme performance loads. It was developed for all performance applications that use forged steel aftermarket crankshafts and produce high loads for extended periods.
PZ Tuning
King Engine Bearings is excited to announce its title sponsorship of PZ Tuning for the 2019 race season. The PZ Tuning Acura RSX will campaign in the Grid Life Touring Cup racing series.
PZ Tuning will continue to use King engine bearings in their race engines and will offer real-world competition-tested feedback to King, as well as collaborate on future King Engine Bearings R&D projects. Will Au Yeung of PZ Tuning is one of the world's fastest drivers globally in the Unlimited Class/Limited Class Time Attack competition. Now this Time Attack champion has his sights on wheel-to-wheel circuit racing.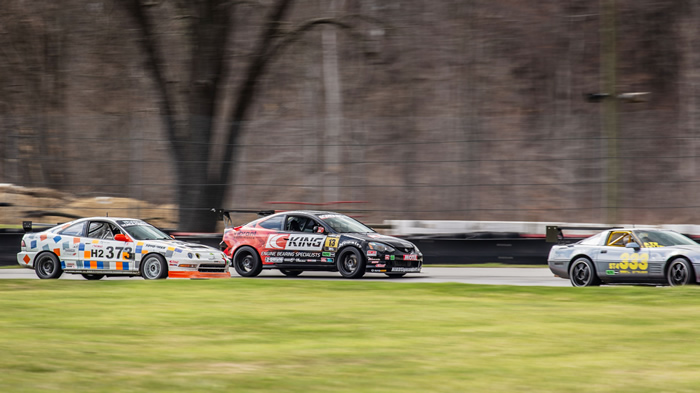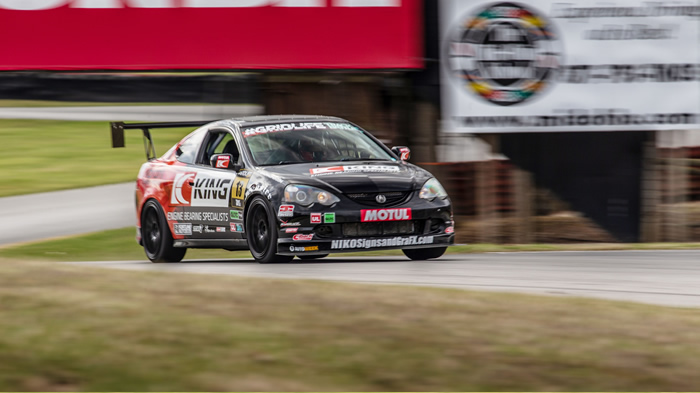 Acura RSX
King Engine Bearings and PZ Tuning have come together to build an Acura RSX to compete in the Grid Life Touring Cup Series (GLTC). Conceived from the ground up by racers of diverse backgrounds, the GLTC is designed to promote close racing between a variety of cars and build freedom with an open "time attack" style rule set. The intention is an incredibly unique driver experience along with a great showcase of exciting and personally relatable builds for those watching at the track or online.
All of the PZ Tuning race cars are outfitted with our latest bearing technology. King's pMaxKote is a revolutionary new approach to coated bearings. The pMaxKote bearings are a natural choice for PZ Tuning as they provide greater strength and wear resistance for their racing application. PZ Tuning utilizes CR4542XPC connecting rod bearings and MB5259XPC main bearings in their K24-powered race cars.
King Engine Bearings is excited to partner with PZ Tuning to expand the reach of both brands and to help PZ Tuning in their pursuit of time dominance!