AE - Camshafts, Valve Train & Belts
The AE brand was established in 1968. Since its inception more than 35 years ago, AE has developed the widest range of engine components available from any single source.
AE provides absolute excellence in advanced engine components, which meet and often exceed the exacting high standards set by vehicle and engine manufacturers. AE is recognized throughout the world as a leading brand of quality engine replacement parts.
The AE Engine Solution product line includes pistons, piston rings, bearings, valves, camtrain and ancillary products, and belts and timing kits.
Our aftermarket customers benefit from our proven expertise in engineering and manufacturing original equipment (OE) components and sub-systems for the world's major automotive manufacturers. We're a global producer of engine and sealing products, so we understand the importance of OE fit and form replacement parts. We know our parts adhere to the industry's toughest standards — and to yours.
Select an AE product to learn more about the benefits of an AE engine solution.
AE Valvetrain 13 -14 PDF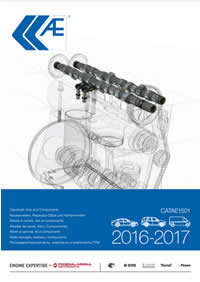 AE Camtrain 16 - 17 PDF
AE Belts & Kits 10 - 11 PDF
To use the Federal-Mogul Electronic Catalogue
Where can I find an old Hepolite / AE Piston Catalogue?
The AE piston brand was replaced with the Nural Brand many years ago. To see the latest range of AE / Nural pistons, please click here. We have a database of old AE part numbers, please if you need any help. You may also see a list of AE / Nural interchange part numbers
The Hepolite range was replaced by the AE Piston range. We have a database of Hepolite numbers that convert to alternative makes or the modern Nural part number. If you still need help finding old classic Hepolite pistons, please get in touch and we will be happy to assist you.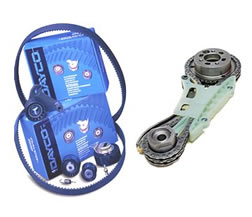 Timing Belts & Chains
Making sure your timing belt / chain and tensioners are replaced at the correct intervals is vital to the reliabilty of your motor. A cam belt / chain failure can be catastrophic to your engine. We have a good range of belts, belt kits, chains and chain kits on a same or next day basis.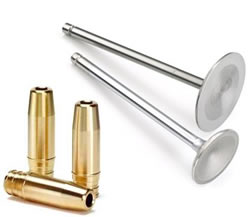 Valves & Guides
We have a massive range of valves and guides on our shelves for European and Asian motors. Our stock is of the highest quality and is produced in Italy & Germany. Components are also available for vintage and classic cars by special request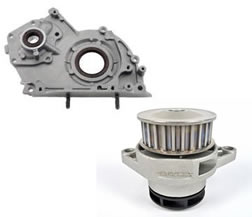 Oil & Water Pumps
We keep a good range of Oil Pumps & Dayco water pumps included with Timing belt kits. Water pumps can be arranged to order separately at special request.
Technical Support
If you can't find what you are looking for or would like any advice on what components you may need, our experienced sales staff are happy to help. We can provide technical information about parts and applications. We are dedicated to the engine parts sector and the majority of out team have been with us since we started in 1987.
Fast Delivery
We offer a same day delivery service to exclusive areas of England on our internal van service. For areas outside our van delivery area, we offer a guaranteed next day delivery with either UPS, Parcelforce, DSV or DPD to ensure your car parts are delivered quickly. Please see our information page for more details
Quality
We only stock components from the World's leading brands. All of our parts have a minimum of 12 months manufacturers warranty and are of OEM standard or higher. We have built our reputation over the years by selling good quality products at a very competitive price with fast and reliable delivery.
Our Brands
Our range of Engine Parts manufacturers from all of the World. These are the leading brands of engine components supplying the World's OEM & aftermarket sectors.