Dayco
Who is Dayco ?
Dayco is a world leader in the design and production of power transmission systems for original equipment.
Dayco provides advanced technical solutions to its customers, the major worldwide car manufacturers, to guarantee the best quality of their systems and reliability of their vehicles. For this reason Dayco invest continuosly in research and on materials and on the development of innovating solutions to anticipate the requirements of tomorrows engines.
Dayco-Mark IV LLC
Dayco is a part of Automotive Division, the core business of the Mark IV Group. Mark IV LLC is a leader in development and production of complete system for power transmission, air intake and engine cooling.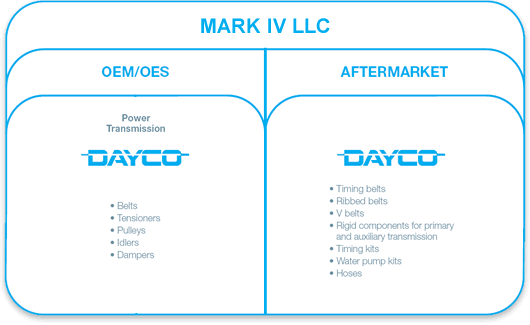 DAYCO AFTERMARKET MISSION
Supplying the independent market with a complete, constantly updated range of components of original quality or equivalent, for power transmission systems.
Providing customers with the service and assistance required to be the best in their profession.
To visit the Dayco website Click here
To view the Dayco online catalogue Click Here