ACL Bearings
We keep a huge collection of heavy duty ACL Bearings and ACL race bearings on our shelves here in the UK
One of the largest ranges of automotive engine bearings in the world is produced by ACL Bearing Company, which is an approved supplier for original equipment bearings to all major vehicle manufacturers in Australia. This range covers all forms of internal combustion engines from small stationary petrol engines to large diesel applications.
Plain and flanged bearings are manufactured in a number of material options, including ACL's Duraglide F780 heavy duty, trimetal copper-lead material, to suit every performance requirements.
The company is dedicated to developing the most innovative and modern bearing production facilities to improve productivity, reduce delivery lead times and maintain the closest production tolerances.
 ACL traces its past to 1922 when Geoff Russell began manufacturing engine parts for Australia's emerging automotive industry. This business became the foundation for Repco LTD.
The ACL Group started as a management buyout company when it acquired a group of businesses from Repco Ltd in 1986. The name "Automotive Components Limited" and the Trade mark "ACL" were first used by a former listed public company of that name in 1951. The "original" ACL was acquired by Repco in 1965. The Group is an amalgamation of 27 businesses over a period of 88 years. The ACL Group now has sales of $50m per annum and employs 170 people. 
Materials
Lead Copper F780 Heavy Duty
These bearings are tri-metal copper-lead material, to suit every performance requirement.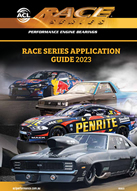 To view the ACL Race series Catalogue PDF Click here
To visit the ACL Race series website Click here
To use the ACL Online Catalogue Click here
To visit the main ACL website Click Here